A Careful Christmas: Christmas Lights Safety Tips
Be safe decorating your house for Christmas with these simple guidelines.
Christmas is the most wonderful time of year, and it's time to admire the accompanying holiday decorations. Aren't they incredible? Here at Walkup Electrical, we've appreciated holiday decorations for years and we never get tired of them. Maybe it's the people of Florence, but they seem to get better every year with their lights.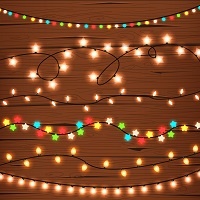 However, as specialists in electrical safety, we're aware of the danger Christmas lights pose. One slip-up and the lights might cause a fire or an electrical shock. You don't want to deal with either of these scenarios during the festive season, so it's important to know the basics.
With that in mind, carry on reading to learn about our holiday safety tips. You can never be too safe.
Buy Quality Accessories
Everybody wants to save money because decorations aren't cheap, yet it's a small price to pay. Purchasing your goods from a reputable store with a solid character is a basic but effective way to ensure they're not hazardous. Also, check the packaging for instructions and safety markings. A green UL mark on the outside of the product means it's for "Indoors Only," while a red one indicates it's safe for both indoor and outdoor use. Last but not least, inspect the covering to make sure there aren't any damages which might impact the quality.
Replace/Repair Them Safely
Bulbs burn out or break, and it's annoying as it ruins the effect. Still, they are electrical items with a current and they deserve your respect. This means turning off the circuit at the socket before handling the lights. You should also wear gloves as they can get hot. Once the current is no longer running, you can then replace the bulb. Simply grab the one you want with your finger and thumb and unscrew. If it's connected, you'll need to twist the base. When it's out, use one of the provided replacement bulbs. Don't install a rogue bulb as it might be too powerful and fry the circuit. Alternatively, you can ask one of our qualified electricians to be sure.
Don't Overload
As a rule, a Christmas tree should have no more than 80% of the outlet's total amperage. Typically, homes have circuits which can handle amps anywhere from 15 to 20. With the Pareto principle in effect, this means the lights shouldn't have any more than 12 to 15 amps. The best way to tell is to read the information on the side of the box and write down the amount as you're decorating. Also, avoid overloading outlets with extension cords as this will trip the breaker and cause all the lights to go off. Again, check their power and wattage ratings before going live.
Turn Them Off
Sure, the lights on the tree look pretty at night, but they're a fire hazard. Mixed with a dry fern, the heat can cause the leaves to catch while you're asleep or not in the house. Therefore, it's essential to turn the Christmas tree lights off whenever there isn't anyone home or downstairs.
You shouldn't have to worry about fire risks or electrical shocks at Christmas. Call Walkup Electrical electricians now and speak to a qualified advisor for peace of mind.